Well, I've known since November, but didn't want to say anything until the BBC released details, but here it is - news of the new Market Inspector in EastEnders; unfortunately I wasn't available to shoot leaving scenes as I was up in New Brighton rehearsing for panto. I originally went into the soap for three episodes that went out in January 2008, and ended up staying for 6 years, during which time I met some lovely people, had a lot of fun and a few really good storylines.
Here's a link to one of them:
Soaps Spoiler
Shirley decides to visit her father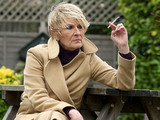 Airs Friday, Jan 24 2014 at 20:00 GMT on BBC One
Sharon's plans to open a wine bar cause tension with Linda, who doesn't want the competition. Soon afterwards, Linda once again urges Mick to ask his dad for some money to help with their problems. However, Mick refuses out of respect for Shirley, who has a long-standing feud with their dad.
Later, things go from bad to worse for the Carters when Linda has to recall all of the pies that have come from the kitchen as Johnny suspects the mince is dog meat. If that wasn't bad enough, an environmental health inspector turns up and Nancy hits a water pipe. When Linda blames Shirley for causing all of the family's problems and Sharon makes an announcement in the pub about the bar, Shirley takes action by throwing Sharon out and telling Mick that they will go to see their father…
Meanwhile, Carol is annoyed when a quiet evening with her family at The Vic is ruined by Terry and David fighting. When they finally stop, Carol updates them all on her test results following another hospital appointment earlier that day.
Elsewhere, a tough new market inspector named Aleks arrives in Walford and warns Tamwar that he needs to prove himself if he wants to keep his job. When Aleks finds out that Kat is behind with her pitch payments, he puts Tamwar on probation.

Follow us: @digitalspy on Twitter | digitalspyuk on Facebook